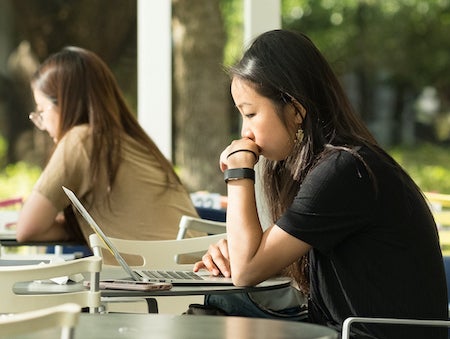 Like Rice University as a whole, the Department of Philosophy is a diverse community guided by the values of responsibility, integrity, community, and excellence. We recognize that much still needs to change in philosophy as an academic discipline and we strongly support ongoing efforts by the American Philosophical Association and other organizations to remove barriers to inclusion. It is high time for philosophy to do its part to increase diversity and, above all, to recognize how diversity increases the vibrant vitality of education, research, and a democratic society.
Reflecting its location in the most diverse city in the United States, Houston, Rice's Department of Philosophy is committed to a respectful and supportive environment for all faculty, staff, students, and visitors. It is our goal to create an educational context for all that is free from discrimination and harassment.
While Rice University has a range of policies that relate to diversity, inclusion and equal opportunity (e.g. policies 815 and 830), the faculty, staff and students of the Department of Philosophy follow three explicit guidelines that are also part of the department's official bylaws:
---
All faculty, staff, and students in the department are respectful of everyone and demonstrate civility toward all, regardless of position or office. 



All faculty, staff, and students in the department work toward eliminating personal biases, preferences, and preconceived stereotypes.



All faculty, staff, and students in the department respect the freedom of expression, as well as the privacy, of others.  
---
The Department of Philosophy does not discriminate, and does not permit discrimination, against individuals on the basis of race, color, religion, sex, pregnancy, sexual orientation, gender identity and expression, national or ethnic origin, genetic information, ancestry, age, disability, veteran status, or other protected categories under the law. Additionally, the Department of Philosophy does not discriminate, and does not permit discrimination, against anyone on the basis of their socio-economic background or citizenship and immigration status.
Since 2013, and supported by Rice's Humanities Research Center and the NSF ADVANCE program, the Department of Philosophy has organized several workshops and symposia under the heading "Why So Few?", exploring the causes and challenges of underrepresentation in the discipline with regard to gender, race, ethnicity, and sexual orientation.
We also actively support our undergraduate students applying to summer programs for underrepresented groups. Some of our own faculty have been involved in these summer programs. 
These are ongoing efforts. Philosophy still has a long way to go.
Only very recently, for instance, philosophy has begun to acknowledge the contributions of Anton Wilhelm Amo, or Amo Afer, to eighteenth-century empiricism. Amo, the first Black African philosopher at any European university, received his law degree at the University of Halle in 1727 and his doctorate in philosophy from the University of Wittenberg in 1734, subsequently teaching at Halle and Jena.
And while John Locke's social contract theory still allowed for the exclusion of religious minorities, the justification of slavery, and the expropriation of Native American land, the Ethiopian philosopher Zera Yacob, writing several decades earlier, during the 1660s, wholeheartedly noted that all of humanity was equal, without reservation or exception.
And how often do we, as philosophers, explicitly recognize the seminal contributions of women to the history of philosophy, from Aspasia of Miletus, Margaret Cavendish, Anne Conway, Émilie du Châtelet and Mary Wollstonecraft to Susanne Langer, one of the first women who was allowed to have an academic career as a philosopher in the U.S.—only in the 1920s?
Philosophy has always been diverse, and it has always thrived on the circulation of ideas and arguments across the globe and between continents, but we still have a long way to go in recognizing and celebrating how crucial cultural diversity has always been to the success of philosophy as one of the core disciplines of the modern research university. 
For more information on Rice University's unparalleled efforts to seek out broad diversity across our student body, but also across faculty and staff, as a central and meaningful part of the Rice experience, we encourage you to consult the website of the Office of Admission and the Vice Provost for Diversity, Equity and Inclusion.